Good manners
Details

Category: Testimonies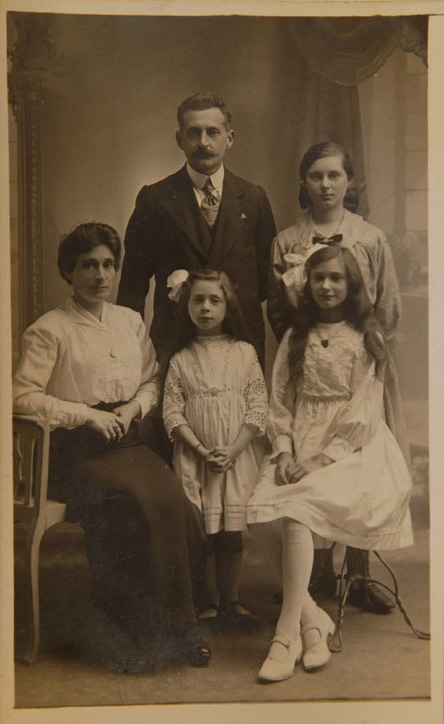 Gustaaf De Guchtenaere was a telegraph operator in England during the war. His children went to school in Tottenham (London).
Gustaaf De Guchtenaere (born in 1878), a telegraph operator at the Korenmarkt post office in Ghent, was married to Emma Haller (born in 1876), a woman of German descent. They had three children: Elisa (born in 1902), Anna (born in 1904) and Laura (born in 1909). They lived in Ledeberg (Ghent).
Emma and the children had already moved to the Netherlands in 1913. They moved in with the Goudappel family in Weesp. Henri Goudappel helped them to flee to England in 1914.
Unlike most other civil servants who were asked not to leave their post after the Germans had invaded Belgium, people who were active in sectors that were of vital strategic importance(train drivers, postal workers, telegraph operators) had to do so , so that they could not be 'requisitioned' by the Germans. 
The De Guchtenaere family was welcomed by the Hartfield family in London. Mr Hartfield was probably a telegraph operator too and Gustaaf continued to practice his profession in London. Anna was  befriended by Winnie Hartfield, who was about her age. The children went to school in Tottenham, where they were expected to wear the school uniform. They learned to speak English fluently and  took music lessons . And they exchanged short poems with their friends(see pictures).
The De Guchtenaere family returned to Belgium in 1919. They went to live in the house of Gustaaf's sister Rosa De Guchtenaere, who had been sent to prison for Flemish 'activism'.
After the war, the three sisters continued to use English when talking to one another and read English books to each other. Also, they never failed to drink tea and eat porridge. And their children were taught the 'good manners' they had learned in England.
Testimonies by Ida Verhaeghe, daughter of Anna, and Marlene Germis, daughter of Laura