A mobile family
Details

Category: Testimonies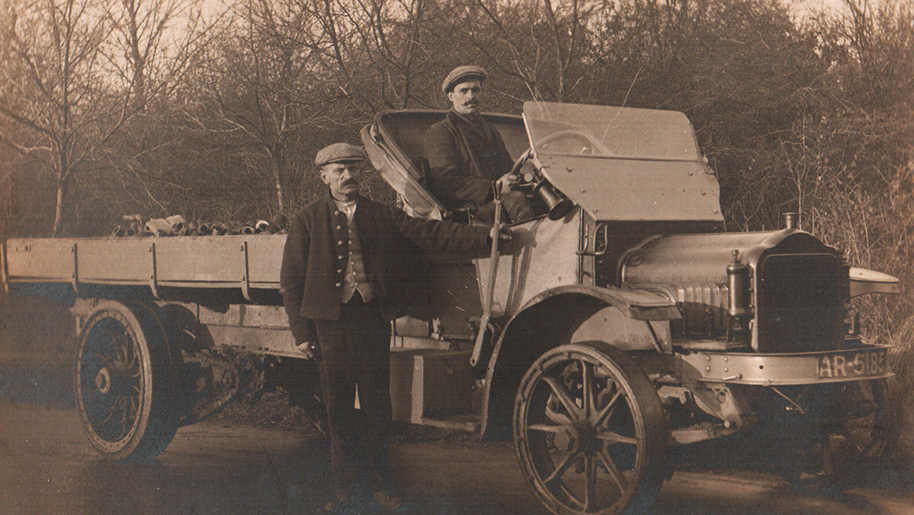 Leonardus Lodewyckx and Joanna Mensch lived at Jan Breydel Street in Berchem(Antwerp), where the premises of SAVA(Société Anversoise pour la fabrication de Voitures Automobiles) were situated. Leonardus Lodewyckx worked for SAVA. His professional skills and work experience were useful in England during the war. 
The SAVA owners had fled to England too and founded a car factory(Kryn and Lahy Metal Works) in Letchworth. Former employees such as Leonardus Lodewyckx and other Belgian refugees made vehicles for the Belgian army there. Benedictus Leonardus Lodewyckx (born in Tessenderlo in 1873, died in Berchem in 1935) and Joanna Dymphna Mensch(born in Geel in 1874, died in Wommelgem in 1957) got married in Berchem on 19 June 1897. Because of his marriage, Leonardus was not required to do his military service. When war broke out in August 1914, Leonardus and Joanna fled the country with their five children, i.e. Augustinus Antonius, Ludovicus, Albertus Ludovicus, Josephus Augustinus and Armand Leonard. Armand was a two-month-old baby at that moment. They left Ostend for Folkestone on 14 October 1914. According to documents from the Central Register of War Refugees, they were first sent to Keddleston(Derby), where Leonardus got a job as a gardener on the estate of Lord Scarsdale. The family then moved to Handford Street on 21 August 1915. A few days later, Leonardus started a new job at Midland Railway, as a temporary worker at the engineering department of its main office in Derby.

In the meantime, George Kryn and Raoul Lahy, the owners of the SAVA factory, had fled to England too. And they were considering plans to build a plant in the UK. They acquired a site in Letchworth. The Kryn and Lahy Metal Works was founded in June 1915. It started to recruit former employees of the SAVA factory in Antwerp, who were refugees now. Leonardus was one of them; and the family moved to Letchworth. Although official documents show that he was employed by the Hayes Reynolds factory, we can safely assume that he worked at the Kryn & Lahy factory. The family was happy in England, as the local authorities had not failed to observe: 'Lodewyckx is apparently very happy here'. Nevertheless, the family suffered immensely when seven-year-old Josephus died on 31 August 1918.

The family were not able to return to Belgium until 28 August 1919. According to their marriage certificate booklet, they went back to live at Jan Breydel Street, in Berchem (Antwerp). The children had a fairly good command of English; army documents said they were bilingual. Augustinus, Leonardus' eldest son, became an ardent supporter of Derby County Football Club; and he would remain so for many years to come.

Cars have always played an important role in this family. Leonardus' sons followed in his footsteps: Augustinus was the first to do so, as he got a job at the Minerva Motors factory. Afterwards, he started his own business, together with his two brothers, Ludovicus and Albertus: Etablissements Lodewyckx Fréres. They sold and bought cars and trucks, and they did repairs. Cars are still important for the Lodewyckxs family and car terminology continues to be used when family stories are told. When looking at the only picture that exists of their stay in England, they never fail to mention that Leonardus is driving a White Truck.
Bron:
Testimony by Stephan Lodewyckx, the story of his great-grandparents.
Thanks are due to Jolien De Vuyst(Department of Social Work and Social Pedagogy, University of Ghent). Interview on Storytelling Day at the Red Star Line Museum(Antwerp).