Eternal torment?
Details

Category: Testimonies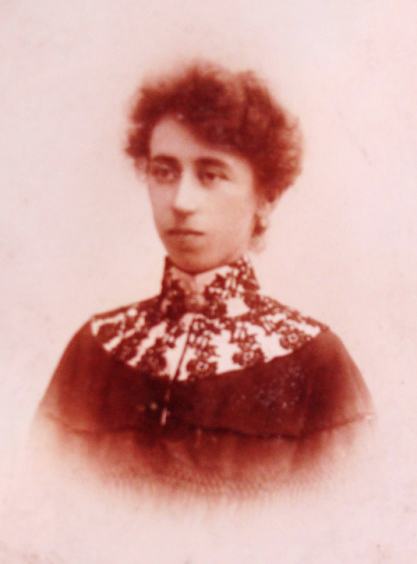 Hélène Govers (born in Ostend in 1876, died in Brugge in 1965) wrote her memories of the First World War in a school notebook under the title 'Souvenir de la Guerre Européenne 1914-1915-1916-1917-1918. Mes Mémoires'. This 109-page notebook is now in the possession of her granddaughter Rosane Vermeirsch.
Fifteen-year-old Hélène noticed a vacancy for a domestic servant in a hat shop. She worked her way up to become a famous 'fashion designer' and a successful entrepreneur, having her own business at the Ostend Boulevard du Midi(today Alfons Pieterslaan). The latter also included a workshop, which provided employment(sewing) for up to ten young girls after World War One. She married Theodoor ('Theo') Debeen, who earned a living as a chief train guard.
Hélène lost three children, i.e. a boy and two girls. She gave birth to her fourth child Jenny in 1904; two years later Solange was born. At the outbreak of the First World War, Hélène was pregnant again.
Their house was full of refugees from Brussels, Mechelen and Erquelines in the early days of the war. People who had the means to rent a room. Hélène also took care of two girls from Louvain, who had lost track of their parents.
After the fall of Antwerp in October 1914, Hélène wrote in her diary:
"Given my physical condition – I have to give birth within six weeks – I tell my husband I don't want to leave Ostend. We talked to soldiers whom we had befriended and all of them advised us to leave. However, we cannot come to a decision. Should we really leave everything behind? Our home and the things we value in our home, and our parents, brothers and sisters? Eventually, we decide to flee to England.
"One simply cannot imagine leaving behind everything you love and cherish at 05.30 in the morning!! It is a horrible feeling…"
Since it was no longer possible to board a ship in Ostend, Hélène decided to travel to England via the Netherlands, together with her two daughters, the two girls and three other people from Louvain.
'"Theo accompanies us as far as the station, because all leave was cancelled. We have to say goodbye…it 's an unbearable situation to deal with … will we ever see each other again? Everybody is weeping… the tram carriages are overcrowded…Women are being pushed into the tram, through the windows. People are shouting and crying. Horrible! Given my condition, I fear being pushed in a rough way myself. Eventually, we cross the Dutch border via Knokke…"
"It 's a dull, drizzly morning and we have been walking for several hours. We arrive at Sluis at noon. We are exhausted! Especially Jenny and Solange, who are also carrying heavy bags, feel terribly tired."
Fortunately, Theo joined them a few days later. However, they were quickly running out of money and their companions from Louvain, who did not have any resources left at all, returned to Belgium in November. Suzanne was born at Souburg(Zeeuws-Vlaanderen) on 20 November 1914. Eventually, the family managed to leave the Netherlands on 25 December 1914. They were welcomed in Folkestone by English ladies, who offered them milk, bread and cheese. They were lodged with Mr and Mrs Stokes at Victoria Grove 11 and were sent to Alexandra Palace a few days later. Hélène and the children ended up in a hall with 300 beds, while Theo slept in a male dormitory. They moved to a smaller dormitory after a few days. The beds were full of vermin and Hélène was gripped by fear of an outbreak of infectious diseases.
"We are spending New Year here. This, I will never forget. The children are given many toys. A concert is taking place… but the more we are celebrating, the more I am grieving."
Eventually, on 8 January 1915, the family left for Fulwood(a suburb of Preston, in Lancashire), where they lived in a beautiful house with electricity and hot water. Their happiness was short-lived, however. The baby suffered from malnourishment and Solange from diphtheria. Also, life in the house was no longer peaceful as they had been joined by two other Belgian families, who were constantly quarreling with one another. Theo started to work in an munitions factory. Solange recovered, but Hélène was told she had to undergo some surgery. Jenny had caught diphtheria too in 1916. And in 1917, Solange was taken to hospital for treatment of scarlet fever. One week after being dismissed from hospital, she got measles.
Not until 28 March 1919 did the Debeen family get written permission to return to Belgium. They left on 4 April 1919; " Theo feels very much annoyed about the whole thing. A clear message has emerged from his employer, urging him to go back to Belgium and making room for English workers." They had to spend the night at Earl's Court (London) before taking the train to Dover the next day. They boarded a Russian ship. Conditions were horrible on it: "We are packed 'like sardines' , it is bitterly cold and we don't manage to get some sleep." The boat arrived at Ostend at 4.30. The family's homecoming was unpleasant as well, as the interior of the house had been completely destroyed by German soldiers, who had lived there during the war.
Hélène provided the inspiration for a character in two books by Eric De Kuyper(At the seaside and Aunt Jeannot's hat). The author had once rent a room at Hélène's house.
Sources:
Testimony by Rosane Vermeirsch(granddaughter), 22 May 2015
Een koffer vol verhalen(A suitcase full of stories), Ostend, Willemsfonds, 2008( translation of the diary by Stefaan Brusseel)
Emma Legein (great-great-granddaughter). Onderzoekscompetenties familiegeschiedenis, Opdracht 2, St Andreas Institute Bruges, Humane Wetenschappen 5A nr.20, School year 2013-2014.