A great loss
Details

Category: Testimonies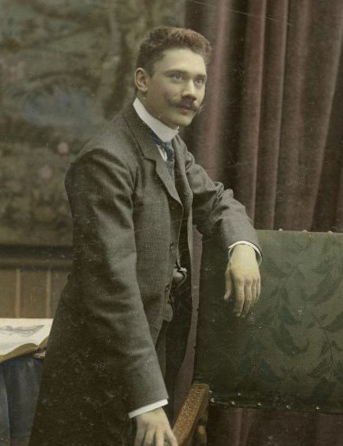 When war broke out in August 1914, Mr and Mrs Collart-Le Corbesier fled to England with their five children. Having lost his wife during childbirth, Mr Henri Collart returned home alone with eight children in 1922..
Henri Collart (born in Antwerp in 1877, died in Borgerhout in 1932), a currency exchange agent, came from a well-off family. He married Madeleine Le Corbesier (born in Westerlo in 1879, died in Fulham in 1922). Before the war, they had five children together: Marguerite, Marie-Thérèse, Madeleine, Jeanne and Lucie. When war broke out in 1914, they all fled to England, accompanied by Madeleine's mother Anne. They settled in Fulham and stayed there until 1922. It is presumed that Henri started his own business there. Henri and Madeleine were deeply religious people. Their children attended the local Catholic school. Madeleine gave birth to three more children in Fulham: Andrée, Hélène and René. The children were raised in a warm and loving family; they enjoyed their stay in England very much. In 1919, Anna became seriously ill and died. Only three years later fate struck again, when Madeleine died while giving birth to her eighth child.
Having lost his wife, Henri decided to return to Belgium. René was but a few months old at that moment. Henri could not raise eight children alone, so they were sent to an boarding school – the Sisters of St Vincentius – at Gijzegem (Aalst). Henri died in 1932; as a result 16-year-old Andrée had to take care of her little brother René.
Madeleine and Marie-Thérèse kept in touch with their friends in England after the war. Madeleine had become an English teacher and she went to London with her students yearly. These trips provided the occasion for visiting her friends, taking half a day off to do so.
Source:
Testimony by Andrée De Wachter, the story of her grandparents
Thanks are due to Jolien De Vuyst(Department of Social Work and Social Pedagogy, University of Ghent). Interview on Storytelling Day at the Red Star Museum(Antwerp)