Separated by the war
Details

Category: Testimonies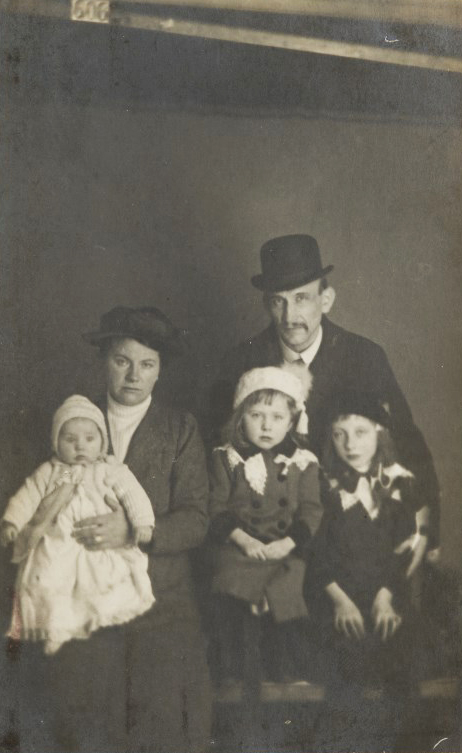 In 1916, Karel Bastiaens left for England to work at the National Projectile Factory in Birtley. His family was to join him later. However, their ship was intercepted by the German Kriegsmarine and escorted to Zeebrugge.
Karel Bastiaens (born in Antwerp in 1879, died in Grimbergen in 1955) married Joanna Lauwerijs (born in Antwerp in 1880, died in Antwerp in 1961) in 1906. They had three children: Martha, Hélène and Jozef. The youngest one was born on 27 August 1914, i.e. only a couple of days before German bombers stroke Antwerp for the first time and a few weeks before the city was besieged. Joanna fled to Rotterdam with her children. The family got separated, as Karel did his military service and was assigned to a unit that was to defend the city of Antwerp.

The latter withdrew to the Netherlands during the siege, crossing the border at Berendrecht. So it is that Karel was reunited with his family. What is striking about this picture is that Karel is dressed in civilian clothes. He had probably bought them upon arrival in the Netherlands in an attempt to avoid detention. In Rotterdam, Joanna was entitled to benefits in order to support her family, as is clearly shown by her marriage certificate booklet. She was also earning some extra cash by repairing old clothes at home.

Karel left for England in 1916 and lived close to Durham. He was employed at the National Projectile Factory in Birtley, where a well-known Belgian refugee community was being established, nicknamed "Elizabethville" (after the Belgian queen Elisabeth). Karel wrote Joanna a letter asking her to come over to England. Many soldiers and their families had already settled there. Joanna agreed to do so and boarded the SS Brussels with her three children in June 1916. However, this vessel, captained by the well-known Charles Fryatt, was intercepted by the German Kriegsmarine, boarded and escorted to the port of Zeebrugge. So Joanna and her children ended up in occupied territory. They then travelled by train from Zeebrugge to Antwerp, where they stayed until the end of the war.

Thus, Joanna could not be reunited with her husband. But she did manage to maintain contact with him, both in the Netherlands and Belgium. Several postcards with pictures of the children are a witness to this. Karel stayed in England until 1917. He then left for France and worked at a camp that provided military supplies, far away from the front line. In 1919 he was able to join his family again. They then moved from Antwerp to Berchem.

Karel bought a Pears' Encyclopedia during his stay in England. It included a chronology of key events in the history of the First World War. Behind his back, his children called him ' pet', which was a friendly way of addressing somebody in Northern England(meaning 'love').
Sources:
Testimony by Roger Bryssinck, story told by his mother and grandparents
Thanks are due to Jolien De Vuyst (Department of Social Work and Social Pedagogy at Ghent University), interview on Storytelling Day at the Red Star Line Museum(Antwerp)