Johnnie Walker's house
Details

Category: Testimonies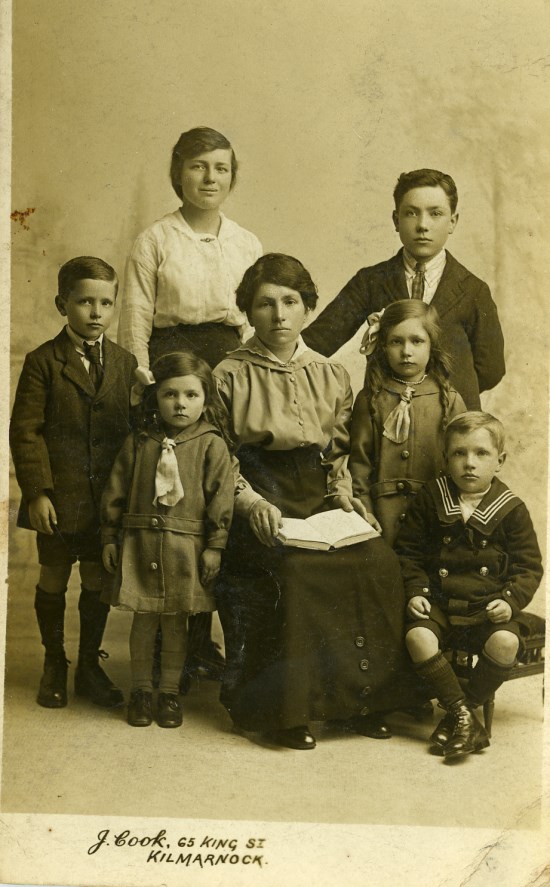 Maria Louisa De Schepper (born in 1881) fled from Niel to Folkestone via Ostend. She took her five children with her, including a few months-old baby and a nursemaid. They ended up in Scotland, in a house that was owned by the Johnnie Walker Distillery.
Maria Louisa and her husband Jan August Peeters (born in 1879) ran a thriving butcher's shop before the war. They made use of electric equipment, which was very rare at that time. The couple also let a few small farms. Jan August was taken prisoner (of war) at Namur on 24 August 1914 and brought to Germany. German troops arrived at the Rupel (river) on 3 October 1914. Maria then decided to flee to England with her children. She was accompanied by her sister Anne, who lived in Schelle and took her two daughters with her. All of them stayed at Hotel Bristol in Ostend. Conditions for boarding the ship were chaotic. But they managed to do so, although not without difficulty. After a tiring journey they arrived at Folkestone on 11 October 1914 and headed straight for Glasgow, where they got food and accommodation at the Dalbeth Convent on 23 October. Eventually, they ended up in Kilmarnock, 40 kilometers south of Glasgow, in a house that was owned by the Johnnie Walker Distillery.

Living conditions in Scotland were good. Presumably, Maria Louisa lived on their savings, as the couple had planned to invest in a new butcher's shop. The elder children went to an English school. At the end of the war, the children travelled by train to Galston (about 9 km) to attend a Flemish school that had been founded by the former sexton of Izegem Mr Paret. They cherished the memory of those beautiful children's books. Also at the end of war, the eldest son George (born in 1905), went to work at a dairy farm to make ends meet.

Soldiers from Niel, Schelle en Boom regularly spent their leave with the Peeters family. One of them was Léon, a nephew on their father's side. Léon played the harmonica and the children combed his hair. When the soldiers had to go back to the front, they received a bottle of Johnnie Walker. The family also established contact with other Belgian refugees living in the surrounding areas of Kilmarnock. And they mixed with local people. For example, Maria Louisa was deeply moved by the death of an English lady, who had been killed in an accident. Possibly, this lady took care of the refugees.

Lots of correspondence with the father have been preserved. Also, packages were sent to him. Two days before the armistice, he died of the Spanish flu in the German camp of Husum. At first, Johanna kept silent about it and refused to tell the children. It must have been a terrifying prospect: stuck in Scotland with five children and almost no money left, and now having to run the butcher's shop on her own.

To return to Belgium, they boarded a troop ship. Jozef (born in 1912) had vivid memories of the many wooden planks (scaffolding) on which the soldiers were sleeping. The crossing was probably made in February 1919. It took quite a long time. Back in Belgium, they sang English songs at work.
Sources:
Testimony by Lia Peeters, story of her grandmother and her father Jozef.
Thanks are due to Kim Robensyn(Amsab-ISH), interview on Storytelling Day at the Red Star Line Museum(Antwerp).