Alison – Angele Delanghe
Details

Category: Testimonies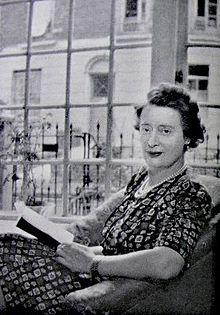 My granduncle Emilius Delanghe was a fisherman from Antwerp, and my mother tells me that he saved many women and children by taking them on his boat during the First World War.
At the time of the outbreak of war in August 1914, Emiel Delanghe, my grandmother's brother, was a fisherman. He was born in Ostend in 1865, but lived in Antwerp then, with his wife Clementia Maria Ludovica Huyssene, and his family. They lived at Sint-Laureisstraat 7, 2018 Antwerp. Between 1900 and 1910 they had five children, all of whom were born in Berchem or Antwerp. Odilia Rosalia (born 13th December 1895), Maria Odilia (born 11 January 1898), Rachel Clementine (born 22 December 1901), Eduardus Emilius (born 23 August 1904, but he died soon thereafter) and Yvonne Angele (born 10 October 1906). Soon after Yvonne Angele was born, in December 1906, the entire family moved to Ostend.
Some of the family, including Angele Delanghe, came to Britain during the First World War. With a keen interest in fashion she became a haute couture dress designer. She had lived in London since she was 14 years old and worked in a dressmaking house before she started her own business in 1939 in Kensington. She worked for Fortnum & Mason's, for Norman Hartnell and Hardy Amies (Kensington). She became a member of the Incorporated Society of the London Fashion Designers, and latterly had her own studios in Bruton Place, Berkeley Square, London. Her business closed in 1966. She passed away in 1971.
Angele Delanghe also made designs for Ladies in Waiting to the Queen such as Lady Alice Egerton, Lady Alice Makins (née Brooks Davis) – wife of Sir Roger Makins, the British Ambassador in Washington, Viscountess Gage, Lady Colville, Lady Eaton, Lady Rothermere, Lady Reilly, Duchess of Norfolk, Duchess of Kent, and Princess Margaret. In 1949, Angele flew out to Australia with her dress collections for a three week tour (newspaper article 19 July 1949).
A 1949 issue of the Mirror carries an article entitled "A Wedding Dress Is Born", describing how the writer went to designer Angele Delanghe's studio to observe her process: "Angele Delanghe is one of the great dressmakers of our time. She is among the exclusive designers who made dresses for Princess Elizabeth's wedding."
 Sources: 
Quote from The Daily Mirror: Scott, V., Mirror, No. 12 Vol. XXVIII June 1949, p.27.
Thanks to Alison, Angèle was her great aunt.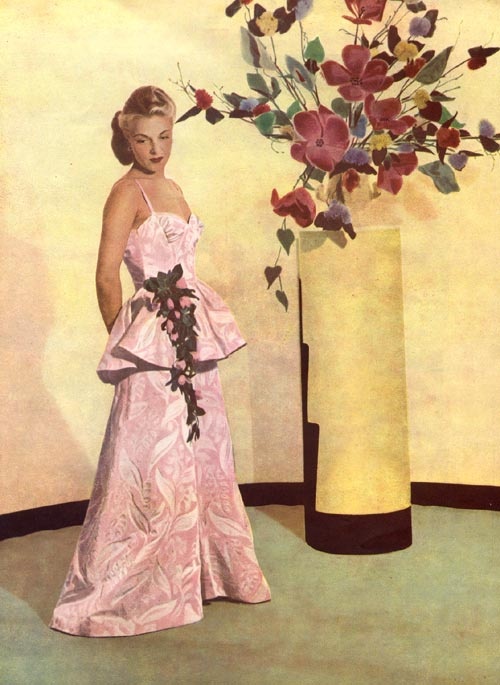 Angele Delanghe in 1947