Julian & Bessie
Details

Category: Testimonies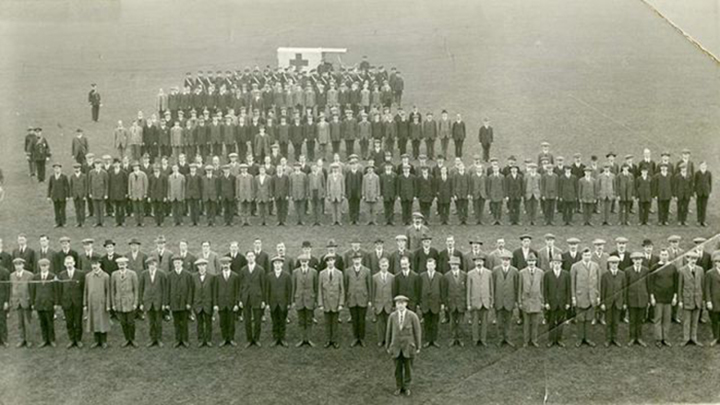 Julianus Albertus Vroome was born in Oostende, West-Vlaanderen, Belgium on the 21 February 1898 and was the third of five children of Albertus Eduardus Vroome and Mathildis Joanna Martinsen. 
They later moved to Zeebrugge where they lived until Germany invaded in 1914.
Like many others, Julien was processed at Earl's Court Refugee Camp in London on 18 October 1914, in the first few days of its opening, along with his parents, one of his two brothers and his sister. Language was an issue for many of the refugees and Julien provided assistance with translation during his stay. From there they were sent to the Opera Hotel, Bow Street, Covent Garden. Although only 16, on his documentation, he claimed to be 18 years of age.
As a refugee he moved to several locations. From Opera Hotel he was transferred into the care of Rev. Nevison Loraine at the Vicarage, Grove Park Road, Chiswick, London and acted as an interpreter for the Chiswick Belgian Refugee Committee. In addition, he spent several months receiving care in the Brompton Sanatorium in Frimley, a dedicated Tuberculosis treatment centre. After his discharge in June 1916 he returned to Chiswick and moved into Iris House where his parents and sister also resided.
Julien enlisted in the British forces (Royal Flying Corps) in 5 July 1916 and served as a mechanic. He took part in two campaigns in France, the first between 29 July 2016 to 13 March 1917 ending with a spell in hospital for debility and bronchitis. His second campaign ran from 27 July 1917 to 19 October 1917.
He was transferred to the Royal Air Force in April 1918 and promoted to Lance Corporal on 3 August 1918. On 19 February 1919 he was discharged for no longer being physically fit for war service. He was due to receive the Silver War Badge (No. 4464), given to all those who left military service, however this was never issued. Instead he volunteered for reserve training.
Upon leaving the RAF, he was discharged to Lunation House, Grove Park Road, Chiswick.
During his time in the refugee camps in Chiswick, Julien met and married Bessie Emma Hudson, who was one month his senior and he moved in with her parents. Their ceremony took place at the local registry office in Brentford on 24 November 1916, witnessed by her father and sister, Rosina. 
Together they had nine children (one still-born), including their eldest Julian William James Vroome, who was born prior to their marriage on 11 June 1916. Although his year of birth was later amended to 1917 when his father applied for British Citizenship in 1919. Their last child, Patricia Mary Mathilda was born on 21 June 1932.
On 5 November 1919, Julien was nationalised as a British citizen, with Ernest Collins, secretary of the Chiswick Belgian Refugees Committee acting as a referee. 
However he chose to return to Belgium for a number of years after the war ended. In 1924, he returned to England, where he and Bessie settled briefly in Hammersmith and then moved to Bromley, Kent. In the same year Julien started work for Thomas Cook & Son. He worked as an interpreter and courier and spent long periods abroad. In March 1927, he had a relapse of illness, causing him to both lose his job and to spend spells in Grove Park Hospital and Preston Hall.
In 1935 he retrained as a taxi driver and did night shifts until the start of World War II. Rejoining the RAF he was promoted to Sergeant.
After the war Julian became a poultry farmer and he and Bessie moved to a farm in Rickmansworth, Hertfordshire where they remained until Julien's death on 15 February 1973, aged 75. Chantil, a great granddaughter of Julien, still lives in Hertfordshire.
Sources 
Many thanks to Chantil Sinclar, great granddaughter of Julien Vroome.