Several Belgian links in the family
Details

Category: Testimonies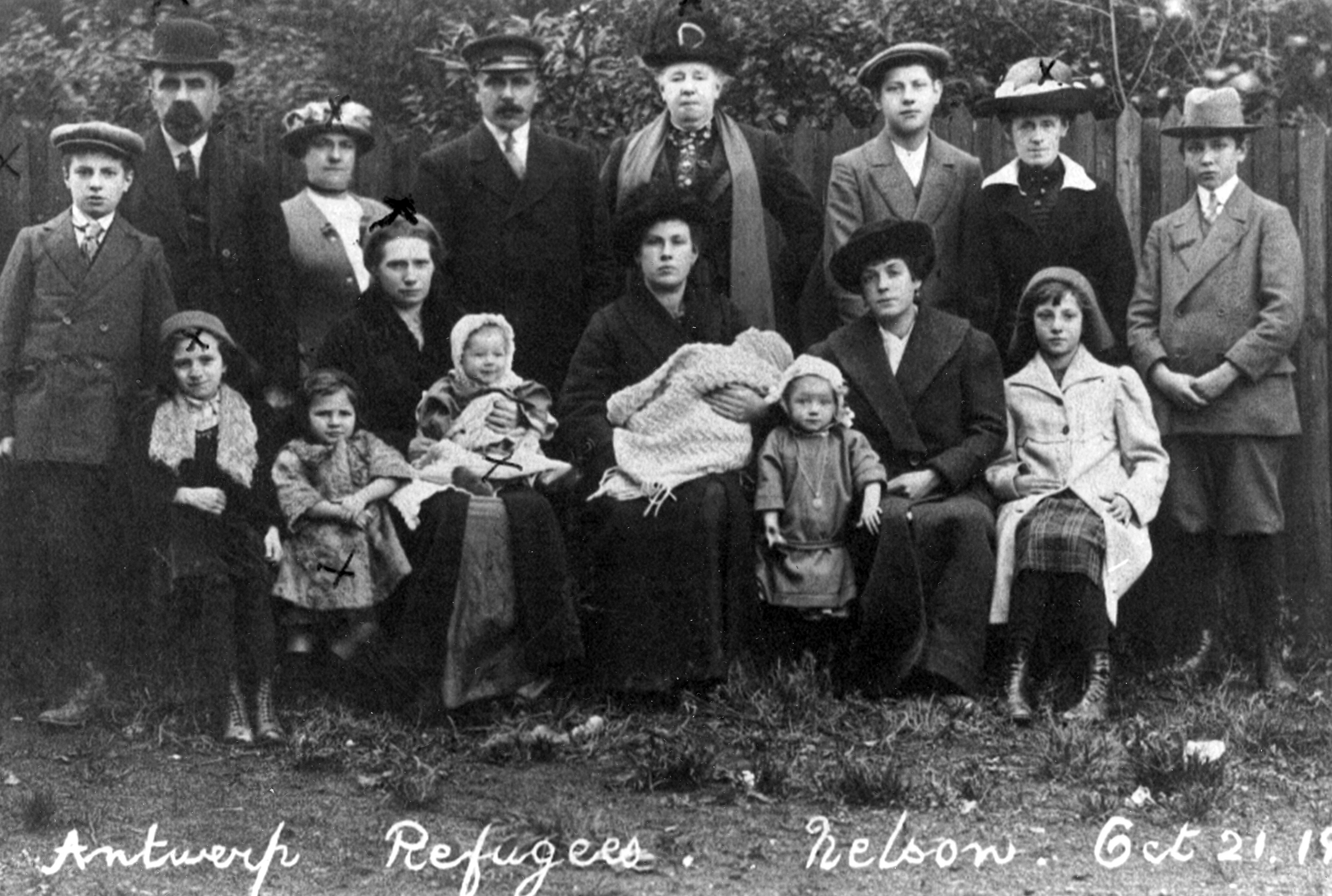 When two Belgian families arrived at Nelson, with a sister-in-law whose husband was in hospital in Folkestone, they were accorded a very hearty reception by a crowd who had heard of their coming. 
They were taken in a waggonette to the new convent at St. George's, where they were kindly ministered to by the members of the Relief Committee. This will be their abode whilst they remain in Nelson. A "Leader" representative visited the Convent and saw Mr. Spyeos Catarahias, and Mr. V Meseeuw, the heads of the two families.
Mr. Catarahias came from Antwerp and Mr. Meseeuw from Ostend. Both of them spoke good English, Mr. Catarahias – who was a traveller for a firm who deal in stevedores – spoke eight languages.
Mr. Catarahias complained that people in Antwerp were not kept fully informed to the situation of advancing German troops. The local papers and the Government did not make them aware of the possibility of a German occupation. For five days and nights Mr. Catarahias, lived with his family in the cellar of his house, which was in the centre of the city, and close to the Cathedral, when a notice was issued stating that bombardment was imminent, and the townspeople were advised to quit the city and go to the north and north-east.
Mr. Catarahias went down to the river, and there discovered a motor boat and into this he got his wife and family. When 30 miles out, they were picked up by a Belgian mail boat and they were taken to Ostend. On their third day there they succeeded and along with 1,600 others they were brought to Folkestone. 
One of Mr. Catarahias' sons aged 18, was a volunteer soldier in the Belgian Army and he acted as interpreter to the British Marines who assisted at Antwerp. Mr. Catarahias last heard of his son at Old God [Mortsel – Oude God], where some of the Brierfield and Barrowford ambulance men were engaged.
Mr. Meseeuw, who was a ship's pilot, left Ostend on the last boat, a small cutter which carried 143 passengers. His family, along with that of Mr. Catarahias were sent forward to London from Folkestone, were they were temporarily domiciled at the Alexandra Palace.
Both families expressed themselves as deeply touched by the kindness which had been shown to them since their arrival in England. At Folkestone, London and Nelson they were the recipients of great hospitality, which they appreciated very much, and which they acknowledged through the "Leader".
Mr. Catarahias said that at Stockport on Tuesday night the railway officials showed them every solicitude bringing them coffee and refreshments. An incident which engraved itself on Mr. Catarahias' mind and which he says he will never forget, was the action of the engine driver, or fireman, he did not know which. He came to the carriage window at Stockport, covered with oil and dirt, and gave each of the children a penny. Not much maybe, yet amidst the magnanimity which has been shown them, this gift stood out with lustre because of the love which dictated it!
Sources
The Leader (local newspaper Nelson), 23 October 1914.
Many thanks to Joanna Edwards.