R. I. P. 1915, F. T. H. Mertens, Belgian, Aged 13
Details

Category: Testimonies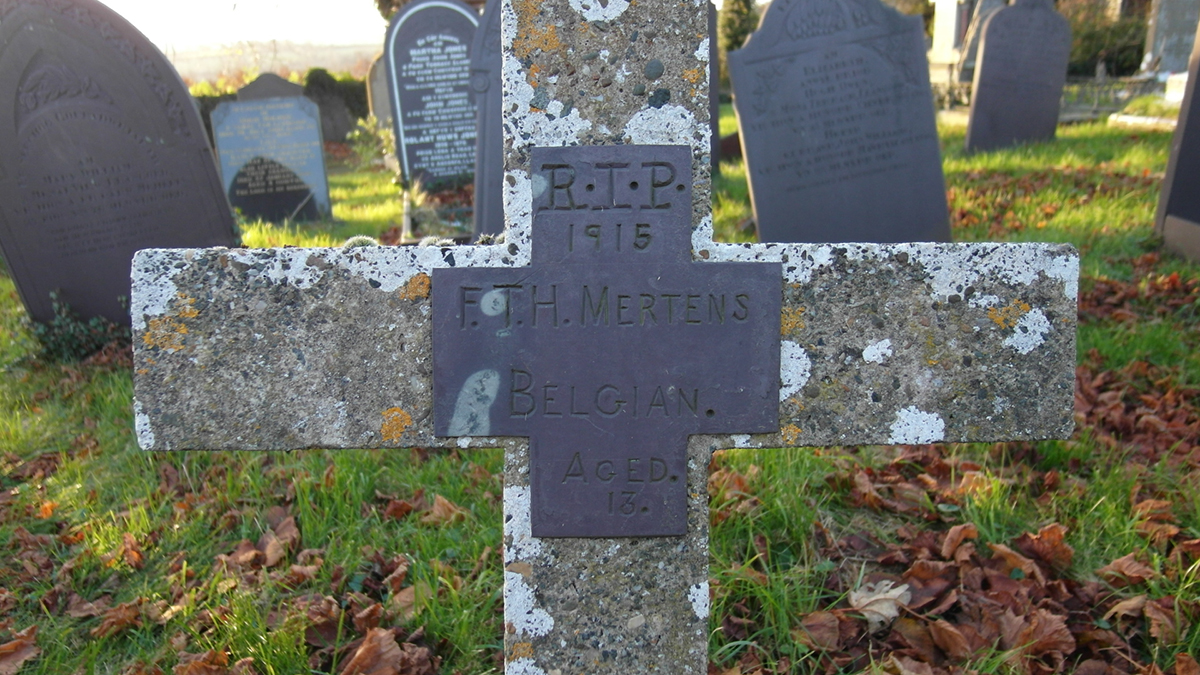 Bridget Geoghegan nudged at her research on graves of soldiers from the first world war in Wales on a tombstone for a thirteen year old Belgian.
It was just curiosity, really.  During the Great War of 1914 – 18 many men were lost and some were not commemorated.  I had successfully found all such commemorations on Church Island (Ynys Tysilio) in Menai Bridge on Anglesey and been able to match them to their regiment.  I had done the same in Penmon Churchyard (also on Anglesey) and then started to look at Llangoed.
The Church in Llangoed is dedicated to St Cawdraf; it is near Beaumaris, on Anglesey.  By now I knew what to look for: Commonwealth War Grave Commission headstones and anyone who had died between 1914 and 1919.  However, in Llangoed the simple slate inscription: 'R. I. P. 1915, F. T. H. Mertens, Belgian, Aged 13' left me wondering – who was this young person, and what had happened?  At this stage, I was searching through a book so had no idea of what I might find.
I knew that there had been Belgian refugees in north Wales 100 years ago; I knew about 'Belgian Promenade' in Menai Bridge - so I did what I do quite well, I asked people. 
My friend who lives in Penmaenmawr (mainland Wales, just opposite Anglesey) told me that at the outbreak of war in August 1914, refugees had been expected from Ireland.  There was political turmoil in Ireland and houses over here had been prepared with furniture, clothes and tinned food; so when the Belgian people had to flee their homes, some communities were ready for them.  Families did go to Penmaenmawr, also to Bangor, Menai Bridge, Beaumaris and Llangoed.
Another acquaintance, from the Family History Society, told me of an altercation outside the Church gate in Llangoed where the Priest and the local Vicar had an argument over the burial of a young Belgian lad.  As the boy was from a Catholic family, the local Catholic Priest thought he should conduct the service – but the family had asked the Church of Wales Vicar!  The family had been made to feel so welcome, in the short time they had been here, that they wanted their boy to be buried by the village Vicar, rather than the Priest who came from the nearby town.  In the end, the Vicar (and the family) won, all was well and the boy was suitably buried.
I asked the local people whose families had been in the village for generations if they had been told this story, but no-one now remembers it.
I asked the Two Guys from Brussels who run a café in Bangor and they were most helpful in many ways.  They told me that the father's occupation of 'Asjusteur' was a skilled machinist / engineer.  They told me roughly where the family came from and then found a picture of the house on the internet.  Recently I was volunteering in the Garrison Church of Caernarfon where there was a copy of Hedd Wyn's Eisteddfod chair from 1917, originally carved by Eugeen Vanfleteren.  It is a fine example of the skilled, intricate work they had been trying to explain to me.  Eugeen Vanfleteren was a Belgian refugee who had settled in Birkenhead, and in 1917 the National Eisteddfod was held in Birkenhead.  Vanfleteren had volunteered to carve this special chair in order to show his gratitude to the people of Birkenhead.  The copy I had seen was printed on a 3D printer.
After asking people, I turned to the local newspapers of the time, now online.  Here I found, in December 1914: 'There are are more Belgian refugees in Menai Bridge than in any other town in Anglesey, namely, 41.  Beaumaris comes next with 19.'  In May 1915 at Menai Bridge:  'At an examination in Welsh dictation at the Council School the highest number of marks was obtained by Jean Van de Cloot, a Belgian refugee girl.'  By December 1915 there was a letter in the local newspaper from J Mertens: 'Would you allow me, through the medium of your valuable paper, to thank the inhabitants of Bangor for their unstinting generosity to the Belgian refugees.  His Lordship the Bishop of Menevia (the Right Rev. Francis Mostyn) has appointed me to look after the spiritual welfare of my Catholic country-men in this district.  My duties take me far afield, and everywhere my admiration has been evoked at the magnificent reception accorded to us on all sides.  We have been stripped of everything – homes, property, industries – by a cruel and despotic power, but though trodden under foot and ground under the heel of an oppressor and unscrupulous enemy, Belgium is not crushed, much less is she conquered.  She will rise again from the ruins of her desolation, and in the future days of her prosperity she will ever cherish the memory of the many truly charitable people of Bangor'.  By February 1916 'All the Belgian refugees have left, most of them having found work in England.'
In the papers there were several people by the name of Mertens mentioned: J Mertens the writer of the letter above; Monsieur Georges Mertens a piano accompanist from the Theatre de la Monnaie in Brussels ; M Mertens a Trade Unionist and Charlotte Mertens who was cautioned for travelling from one town to another without a licence.  In June 1915 there is an anonymous entry 'One of the young Belgian refugees, a skilled copper worker has secured employment in a well-known shipyard in the North of England'.
Of the Belgian Promenade in Menai Bridge – I had been surprised to find that building it was a job funded and organised by the local people of Menai Bridge, so that the Belgian people should have work and an income while they lived in the area.
Of the Mertens family in Llangoed we have very little detail.  Their arrival was recorded in the local paper of October 1914 'A party of Belgian refugees, 16 in number, and including several young children, arrived on Friday evening, and are installed at Plas Llangoed, kindly given for the purpose by Mr S. Taylor Chadwick, of Haulfre.  All classes in the village co-operated readily to provide all that was necessary in the way of furniture sufficient for the accommodation of the party, as well as subscribing a weekly sum of money which will maintain them during their stay.  A most cordial welcome awaited the refugees, the only disappointment being that the arrival did not take place until after dark, and consequently the preparations in the way of bunting etc., were not seen to the best advantage.  Awaiting them at Plas Llangoed were Mrs and Miss Chadwick, the Misses Massey, the Misses Cross, Mrs J. Hepworth, Mrs Owen, and Miss Williams (Bryniau), and many others, all anxious to be of service.  Most of the refugees are Flemish.'
So, what did I find in the churchyard?  It was a simple home-made cross with a small slate plaque inscribed with 'R. I. P. 1915, F. T. H. Mertens, Belgian, Aged 13'. 
Look more closely and you will find that the cross is made of concrete, originally made by pouring the concrete into a wooden mould.  The concrete was strengthened by some metal rods.  The slate plaque is skilfully (but not professionally) carved and attached afterwards.  It seems to me that this is the work of a grieving family whose friends had building materials in their back yards and were willing to share them.  It still stands, but is suffering from old age – the metal reinforcing rods are visible at the back of the cross and are starting to deteriorate.
During November 2017, we plan to commemorate all the men of Llangoed who were lost in the Great War by red poppies – and the young Belgian lad who stays safe in our community.  He will get white poppies which are being knitted as I write this.From his Death Certificate, we learn that F T H Mertens is Frederick Theophil Hendrik Mertens.  He died at his home – Plas Llangoed, from Diabetes Mellitus, age 13.  His father registered the death, the home address given is 7 Kapelstreet Belgium Malines and the father Yan Mertens.
RIP Frederik Theophil Mertens died 5th January 1915 in Llangoed, Anglesey, Wales.
A young man who was very much loved and missed.
My thanks to all those who have helped with this research.
Bridget Geoghegan