From 'half-brother' to husband
Details

Category: Testimonies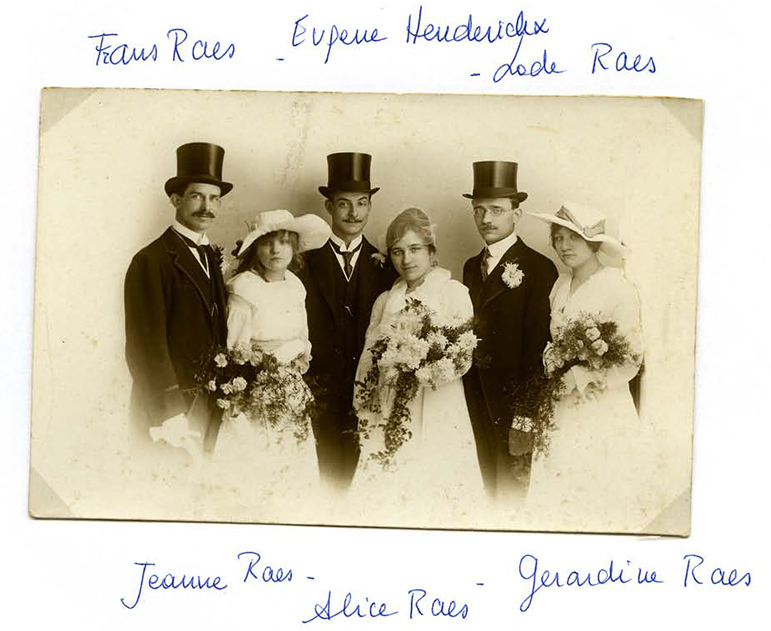 The Raes family flees to Zeeland and afterwards to England. The best friend of their oldest son, an alleged 'half-brother', accompanies them on the trip and marries one of the Raes daughters during the war.
I am the granddaughter of two people who stayed in England during the First World War. Five members of the Raes family fled to England (my grandmother Alice was one of them), together with the best friend of the oldest son Lode, an alleged 'half-brother' (i.e. my grandfather Eugène Henderickx). They stayed in England from 1914 until 1919. The documentation was held at my mother's place and at the house of a nephew of hers.
The story of how they fled to England is based on a testimony that was collected by a nephew and a niece. My family went from Antwerp to Vlissingen and then to Tilbury. They were lodged with two ladies in Middelburg during the short stop at Vlissingen. Later, the latter served some time as a go-between, as they took care of their letters to their relatives in Belgium.
Family tradition has it they left Vlissingen with the last ship in mid-October. Rumour even had it that it hit a mine and sank, but that proved to be untrue. Those family members who had stayed behind in Antwerp, i.e. the mother, the father, the oldest daughter and a son who was ill, were worrying about them until they got the message that all of them had safely crossed the Channel.
My grandfather Eugène Henderickx was an accountant at Schmidts (a metal company). He kept very accurate records of their spending. He worked at Schmidts in England too, as well as for Claeys. He avoided being drafted in this way, but eventually he did enlist in the army and was sent to Le Havre where he worked for the Belgian government at the Ministry of Agriculture. Lode Raes was in France as well, as a male nurse, first in Calais, and later in Saint Addresse. He corresponded with the Raes family; about two hundred postcards have been preserved, including those to the sister of his best comrade. One could fill two shoeboxes with them. Some of these letters and a few documents went on display at an exhibition at the BELvue Museum in Brussels.
The family first got accommodation at the Victoria hostel, and was subsequently sent to Dullingham, Willesden Green and Watford. They stayed in the London region most of the time. A considerable amount of correspondence with Floris Prims, the future Keeper of the Archives at the City of Antwerp, has been preserved. Also, money transfers probably took place via the secretariat of De Stem uit België, which was run by Prims.
They were lodged in a garden house. It must have been quite spacious, as the War Refugees Committee paid the rent. It was not easy for them to make ends meet; these were years of scrimping and saving. They even took part in fox hunting (as drivers) to earn some money. However, unlike many other Belgian refugees, they did have to pay for tube tickets. Possibly, my grandfather was employed at the time and his employer paid for them.
They knew English. My grandfather spoke several languages, i.e. Dutch (or Flemish), English, French and German. My grandmother left me some exercise books in English. They date from before the First World War. Frans and two sisters ended up in a sewing shop. Probably, nobody went to school in England. And that goes for the fifteen-year-old youngest sister as well.
My grandparents married in April 1917. Their first daughter was born in September 1917. When August Raes served in the army in France, she was granted a laissez-passer to join him. So she left for Le Havre in 1918, together with her daughter.
They lived in Patriottenstraat upon their return, and afterwards they moved to Jan Van Rijswijcklaan.
They did not cultivate any British habits after the war. My grandfather got a job at Agfa Gevaert, as his employer – Schmidts – did not immediately return from England. He died in 1952, while my grandmother died in 1967. My family lived in Belgian Congo from 1949 to 1960, but according to our nephews and nieces nobody ever said much about the war years.
Testimony by Griet Simoens-Flour. Thanks are due to Christophe Declercq, interview on Storytelling Day at the Red Star Line Museum(Antwerp)